Want To Make More Money? Career Expert Mandi Woodruff-Santos Shares How To Boost Your Earning Potential
3 min read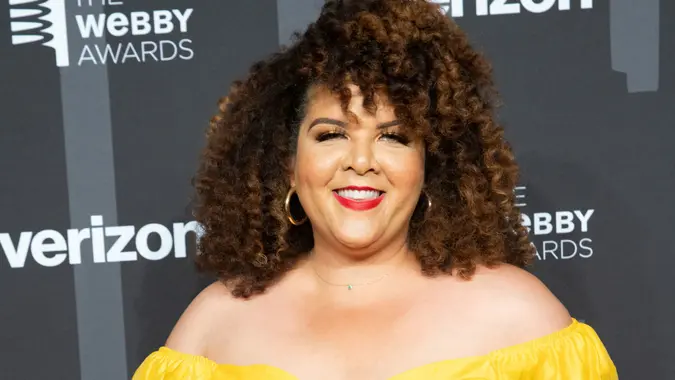 Adela Loconte/Shutterstock / Adela Loconte/Shutterstock
Mandi Woodruff-Santos is the founder and face of MandiMoney. She is a financial expert who aims to help women of color achieve their financial goals. Woodruff-Santos is a regular contributor to Yahoo Finance Live and has been featured on "The Dr. Phil Show," The New York Times, CNBC, CNN, Business Insider, Essence and Teen Vogue.
See Our List: 100 Most Influential Money Experts
Learn: How To Build Your Savings From Scratch
Recognized by GOBankingRates as a Top Money Expert, here she shares career tips and tricks for anyone stuck in their career or looking for a change.
Want to vote for Woodruff-Santos as your favorite money expert? Click here to go to her page.
What's the one piece of career advice you wish everyone would follow?
The sooner you stop relying on a single job or company to provide financial and professional "stability," the better.  Start investing in your own resilience as a professional, so that no matter what happens to you over the course of your career you always have a strong foundation to bounce back from. Invest time in your skills and in your own development in your industry and do not sleep on those personal relationships.
Go through your career expecting every single person you encounter to be a potential light in the darkness if things don't go your way down the line. You never know where people are going to end up or how they may be able to help you when you are looking for a new opportunity. 
Take Our Poll: What Are You Worth to Your Company?
What traditional career advice do you believe is not worth following and why?
Traditionally, there's an expectation that you need to suffer and grind yourself to death early in your career to be worthy of new opportunities down the line. Unfortunately, this tradition still shows up in many professions, but I think that it's time to start teaching young professionals to expect a lot more.
I want young professionals today to go into their careers expecting to get what they give and to look for opportunities at companies that value their development and their growth and don't just expect them to be a cog in a wheel. It's not about "quiet quitting" or showing up and doing the bare minimum — it's about giving your best effort only for companies that support and value you and see you as a full individual, not a robot without a personal life or other interests.
What's the No. 1 thing everyone should do to boost their income and/or earning potential?
Don't get complacent with where you're at and always be looking for new opportunities to grow. Always stay open to new career opportunities and practice your negotiation skills. There's just no better opportunity to negotiate higher compensation than when you were leaving one job for a new one, and you may hold yourself back financially if you stay too loyal to one employer.
As far as increasing your earning potential, you need to be a couple steps ahead of yourself, always thinking of where your industry is heading and how you can start to acquire specific skill sets that match. There's a time about 5 to 10 years into your career when it's also a great moment to start specializing or niching down so that you become the go-to person and a specific aspect of your work. The more unique and in demand your skill set is, the more resilient you'll be as a professional.
Jaime Catmull contributed to the reporting for this article.
More From GOBankingRates
link