Shifts in Canada's May Jobs Makeup Won't Please Bank of Canada
3 min read
It's as if they knew. The Bank of Canada just raised its key policy-setting interest rate, the 'overnight rate', by 25 basis points (where 100 bps = 1.00%) to 4.75%. This was in the belief that the Canadian economy is continuing to run too hot. 2023's Q1 'real' (inflation-adjusted) gross domestic product (GDP) growth annualized was +3.1%, an above average result. (The annual change in Canada's GDP over the first 22 years of this century has been +2.1%.)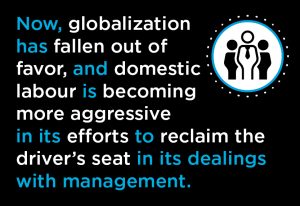 But it seems likely that the at-the-time upcoming Labour Force Survey report for May would have been foremost on the minds of the BOC's decision makers, with a worry that it would show an ongoing super-charged jobs market. They were right to be concerned. While the actual change in total employment in May was -17,000 jobs, there was a great deal extra going on behind the scenes.
Canadian youth employment fell by -77,000 jobs; but older-worker employment rose by +63,000 jobs. Historically, calculation of the former has been subject to variability tied to May marking the beginning of the student summer job season. Also, the wages earned by the youngest age cohort are at the bottom of the remuneration scale. Older workers are paid more.
Since more seasoned workers earn more than less experienced workers, there's an important implication for the consumer spending that plays a key role in driving the economy.
There's also an additional consideration: full-time work is rewarded more than part-time work.
Among Canadian individuals aged 15 to 24 in May, part-time employment fell by -26,000 jobs and full-time employment by -52,000 jobs. Among Canadian individuals aged 25 and over, part-time employment rose by +41,000 and full-time employment by +19,000.
The conclusion has to be that the Bank of Canada is right in thinking there is still a lot of stimulus for economic growth coming from the country's souped-up labour market.
Where the BOC may not be correct, though, is in supposing there is much more it can do to cut inflation in half again (i.e., it has already fallen from +9.0% to +4.5%) and bring it down to its former level of +2.0% annually. The +2.0% number occurred when companies in North America were keeping costs down by offshoring production to nations with negligible or barely nascent labor movements.  
Now, globalization has fallen out of favor, and domestic labour is becoming more aggressive in its efforts to reclaim the driver's seat in its dealings with management.
May's labour market report from Statistics Canada also includes some interesting observations on where work is occurring these days, with implications for office tower owners who would like to see a speedier filling up of their disturbingly empty spaces.
(1) According to Statscan, in May 2023, 14.4% of workers worked exclusively from home, but that was down 4.8 percentage points from a year ago.
(2) Also, in the latest month, 41.3% of workers in professional, scientific, and technical services (the most intense 'homebody' sector in the economy) worked exclusively from home, but that was down 9.4 percentage points from May 2022's figure of 50.7%.
Indeed, there is evidence that the shift back to the office is underway, but at a relaxed pace.  
Statistics Canada also reports that the proportion of workers carrying out their duties exclusively at home, or in a hybrid arrangement, is currently highest in Ontario (27.3%), with Quebec as runner-up (26.2%).
Canada's seasonally adjusted (SA) unemployment rate in May rose to 5.2%, up from 5.0% in April, but sitting at the same spot as in May of last year.
Canada's R-3 unemployment rate, which is calculated according to the same strict standards as in the U.S., concerning who is really striving their hardest to find a position, is presently 4.3%, not much higher than the 3.4% found in America.
In May 2023, Canadian construction employment stayed flat; manufacturing employment, though, climbed by +13,000 jobs. That was the nicest staffing gain for manufacturing in nearly a year.
---
Alex Carrick is Chief Economist for ConstructConnect. He has delivered presentations throughout North America on the U.S., Canadian and world construction outlooks. Mr. Carrick has been with the company since 1985. Links to his numerous articles are featured on Twitter @ConstructConnx, which has 50,000 followers.

link