'I Love The Controlled Chaos'
7 min read
DOWNTOWN — Jorge Martinez is good at math, multitasking and has a great smile. A biology major studying optometry at University of Illinois Chicago, he's been looking for extra ways to make money.
His solution: become a casino dealer.
For the past eight weeks, Martinez has gone to Bally's dealer school in the morning in addition to his regular college classes. He's among the first batch of 125 dealers-in-training hoping to cash in big at Chicago's first casino.
The casino is pending approval from the Illinois Gaming Board, but Bally's is slated to open its temporary, three-floor casino at Medinah Temple this summer with 800 slot machines, 50 table games and dining options.
Bally's could receive the green light for operations at any point this year and has wasted no time in looking for staff. The company recently began hiring for more than 700 positions, spanning everything from cooks to security, housekeeping and marketing staff.
Bally's dealer school, which involves upwards of 16 weeks of training, hit the ground running in March after recruiting throughout the city in February. An additional round of training starts May 15.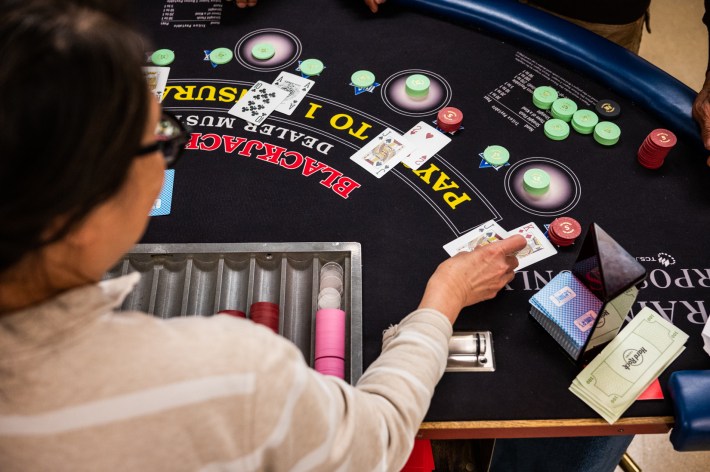 Bally wants to hire 300 dealers for the temporary facility, but it will eventually need 1,000 for the permanent casino in River West.
Dealers who complete the training will be offered part-time or full-time positions with a starting rate of $9.50 an hour, company officials said. Dealers can earn 25-50 cents more an hour for each additional table game they learn. Tips are pooled and can average another $25-$45 an hour, company officials said.
Martinez and his girlfriend had reservations when they attended an information session at Truman College about the dealer positions. He had only been to a casino three times in his life, one of those being for his 21st birthday in Las Vegas. But after learning more about the job, he decided he wanted in, he said.
"I've always been good with numbers, and ever since I was a kid, I liked playing different card games," Martinez said. "Once I started researching and seeing how it was going to be the first casino in Downtown Chicago … there's a bunch of opportunity getting in on the ground level."
What It Takes To Become A Dealer
The dealer school is at Bally's office at 640 N. LaSalle St., with temporary walls separating the training space from the corporate team.
Once inside, there are the characteristic sounds of a casino floor: chips clacking, people laughing, loud sighs and cheers.
There are eight to 10 casino tables with games like blackjack, roulette and baccarat. There are two craps tables inside a back room. Trainees rotate in 30-minute increments, taking turns as dealers while the others act as players.
But it's taken weeks to get to that point. The first day, trainees spent most of the time learning how to handle chips, said Peter Berard, Bally's director of table games.
Dealers learn how to hold and organize the chips, including how to size the chips for large payouts: four $25 chips for $100 stacks or five $5 chips for $25 stacks, Berard said.
It's the very basics of dealing, but it matters to give accurate change in a timely matter, Berard said.
Dealers also train on how to place the chips on the table and how to break them down in front of the guest, with the highest-valued chips placed closest to the dealer to discourage theft.
Another early lesson is card placement, from how to deal the cards to how to set up games like blackjack on the gaming table, Berard said.
Most dealers will be trained on several games, with blackjack being one of the first they learn. Blackjack training takes about eight weeks, Berard said.
It's helped Jamurai Soldier deepen his understanding of the game's mechanics and strategies, he said. Before the training, he didn't know much about blackjack other than that the goal was to get to 21.
"I think one of the interesting things that I'm learning is just the odds, like what's the suggested play when certain cards are played. Like, for example, the dealer has shown the six — what you should do?" Soldier said.
Dealers with the highest math assessments will also be pushed to learn craps, a table game involving a great deal of action, strategy and numbers. Craps is considered one of the most complicated games a dealer can learn, taking up to 16 weeks of training, Berard said.
Nickolas Clark is on his fifth week of craps training and is almost done with blackjack. He doesn't consider himself a gambler, but he has always been intrigued with the craps tables at casinos, he said.
"The craps table was the funnest table to be on … so when I was offered to take the craps class, I jumped on it," Clark said.
Craps is one of the only casino games where the player is involved in the game itself. There are 10 types of bets a player can place and 36 combinations for each roll of the dice.
The game is known to attract a crowd of personalities — from the superstitious bunch to the high rollers.
Craps dealers train in a separate room to avoid distraction. The trainees gather around the gaming table, studying a thick packet of rules. A white board against the wall breaks down the math of a horn high bet, which relies on a specific combination of numbers on the dice.
"I love the controlled chaos of it. I love that," Clark said. "I kind of thrive in chaos, and so when you see it and there's all the chips and all the bets, I know enough now that I'm calm, and I can expect what's going to happen and what I have to do."
Like Martinez, several people in the school see the training as an opportunity for a new start. The dealers are a diverse range of ages and backgrounds.
Clark, a real estate agent, said he was looking for a new career after the market recently took a turn. He was applying for management jobs on LinkedIn when he came across the Bally's dealer listing.
"I was looking for something new to kind of reinvent my career. … As soon as we started [training], I really just started to engulf myself in and got more excited about it," Clark said.
Soldier was also looking to switch careers after working in the cannabis industry. He is studying supply chain management at Olive–Harvey College, and becoming a casino dealer seemed like something he could enjoy while in school, he said.
"I was basically interested because I … started playing online poker about four years ago. I was maybe two slots away from getting the automatic bid to go to the World Series of Poker. So, ever since then, I've been burning to get involved," Soldier said, laughing.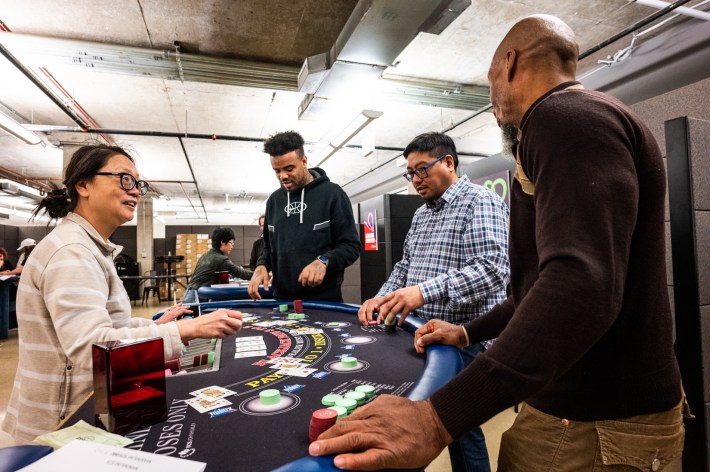 Each dealer goes through several rounds of whichever game they are training for and must pass a test.
Blackjack is graded on a scale of 1-6 for across categories, such as making quick change, breaking down chips and card placement. You pass with a score of 85-102 points.
Martinez recently took his blackjack test. It took about 20 minutes of table time, and although his fingers trembled a little, he passed with a score of 96.
"Once you're in the zone, time seems to just fly by. When you're dealing cards, it's just one hand after the other, but it's not as easy as people think. I was a little nervous, but I got through it," Martinez said.
Soldier hopes to train in other games after finishing with blackjack. He's already interested in learning baccarat, another card game involving the player versus the dealer, who functions as the "banker."
Soldier said he hopes to be a dealer who gives everyone a fun experience.
"Sort of like when you go to karaoke or bowling, those are two things that I noticed everybody's not good [at], but everyone seems to have a good time regardless. And that's the type of dealer I want to be like," Soldier said. "When you come to my table. I would like for my energy to rub off on you. I want you to feel good even if you lose. It's like, 'Yeah, I lost $1,000, but that guy was funny.'"
Bally's will continue to host its dealer school at its corporate office until Medinah Temple opens. At that point, City Colleges of Chicago will take over the school as part of its continuing education course.
Watch our "On The Block" TV show on The U, CW26 and MeTV.
Listen to "It's All Good: A Block Club Chicago Podcast":

link