Canada gains 150,000 jobs: what the economists say
9 min read
The majority of the gains were full-time in the private sector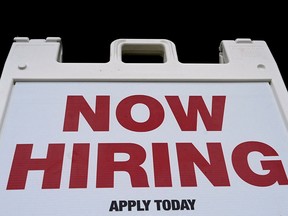 Article content
The Canadian jobs market posted another blockbuster result, gaining 150,000 positions in January, Statistics Canada said on Feb. 10, outpacing analysts' estimates for an increase of 15,000.
Article content
The jobs report was "even more impressive," said James Orlando, senior economist at TD Economics, because the "gains were concentrated in full-time jobs in the private sector."
Article content
Of the gain, 121,000 were full-time positions and 28,900 were part-time. The unemployment rate held steady at five per cent and the participation rate rose to 65.7 per cent from 65 per cent in December, the national data agency said.
Article content
The economy has added over 800,000 positions since the start of the pandemic, Royal Bank of Canada said in its analysis of the jobs report, adding that "two-thirds of job gains were driven by prime-age workers" in the 25 to 54 age category.
It's the second month in a row the strength of the employment market has taken forecasters by surprise. The economy, in December reported a gain of 104,000 positions, blowing past forecasts for an increase of 5,000 additional positions, although, the  report was "heavily revised downward" by 33,000 positions, said Jay Zhao-Murray, an FX market analyst with Monex Canada, in an email, "and we may get a repeat of that scenario this month."
Article content
At the time, economists said the strong December numbers would prompt the Bank of Canada to increase interest rates, which it did at its Jan. 27 meeting, hiking its benchmark lending rate to 4.5 per cent.
Based on the latest jobs numbers, some economists say markets could start pricing in another rate hike. The Bank of Canada indicated last month that it would likely pause its hiking campaign if economic data over the next few months tracked along its expectations.
Here's what economists are saying about the jobs numbers, what they mean for a potential soft-landing for the economy and interest rates.
James Orlando, TD Economics
"It was a blowout report for the Canadian labour market. The 150,000 jobs gain is one thing, but the fact that gains were concentrated in full-time jobs in the private sector, alongside people working more hours, makes this an even more impressive report. Although the seasonal adjustment should be called into question, the sheer size of this print points to a further boost to consumer spending and overall GDP to start the year.
Article content
"Today's report is sure to raise eyebrows at the Bank of Canada. Their conditional pause on further rate hikes is predicated on a slowing of economic growth and an easing in the labour market. The bank won't adjust course after one report, but it will be closely watching to see if this trend of massive job gains continues."
Andrew Grantham, CIBC Economics
"Another month, another blockbuster job print for the Canadian economy …. Unlike during the latter part of last year, the strong job figure was also accompanied by an increase in hours worked (+0.8 per cent) as sickness-related absenteeism was closer to seasonal norms, which is a positive for GDP and suggests that the economy certainly isn't on the verge of recession.
Article content
"The Bank of Canada's conditional pause on interest rates was likely done partly so that policymakers didn't feel the need to respond to any single strong data print, no matter how strong, but rather assess how the economy is faring over the course of a few months. However, that won't stop markets reacting to today's strong data by pricing in a greater probability of further hikes, and pricing out rate cuts."
Stephen Brown, Capital Economics
"The surge in employment and strong rise in hours worked in January suggest that GDP growth will be stronger than we anticipated this quarter. However, the decline in wage growth means that unexpected strength is unlikely to prompt the Bank of Canada to switch back to hiking mode.
Article content
"The 150,000 jump in employment was 10 times as large as the consensus estimate. While the gain was partly due to an unusually large 63,000 rise in the population last month, amid strong immigration, the labour force increased by an even larger 153,000, thanks to a 0.3 percentage-point rise in the participation rate.
"Despite the bumper gain, the labour market data are unlikely to move the needle much for monetary policy, not least because wage growth declined to 4.5 per cent year over, from a downwardly revised 4.7 per cent — it was previously estimated at 5.2 per cent in December. Nevertheless, together with the 0.8 per cent month over month rise in hours worked last month, the data pour cold water on the idea that the economy is on the cusp of recession and suggest we need to revise up our forecast of a 1.5 per cent annualized decline in GDP this quarter."
Article content
Kevin Carmichael: Canada's 'blowout' jobs report raises questions about the path of interest rates

How concerns over the housing market factored into the Bank of Canada's latest rate decision

Bank of Canada won't be cutting interest rates anytime soon: Tiff Macklem
Douglas Porter, BMO Economics
"Canadian employment soared 150,000 in January, the largest non-pandemic monthly rise on record and a loud echo of the rollicking U.S. jobs report a week ago. Even in percentage terms, the 0.75 per cent month over month gain is larger than anything seen in the 40 years before COVID.
"Note that actual, or non-seasonally adjusted, employment fell by 125,000 in January — prior to the pandemic, a "normal" January would see a job loss of 250,000-to-300,000 in unadjusted terms. So, evidently, there simply were far, far fewer layoffs than in a normal year at the start of 2023. Instead of an actual hiring boom, what we instead saw last month was a layoff freeze, given how hard it is to find workers in the current environment. To be clear, this is not to dismiss the strength in the headline number; the data are seasonally adjusted for a reason. It's more to explain what the underlying story may be in this complicated backdrop.
Article content
"Bottom Line: One always has to take care when reading a Canadian employment report — for example, the prior month's huge gain was itself revised down (earlier) by more than 30,000 jobs. Still, even if there are some misgivings about the massive headline gain, the labour market is sending precisely zero signs of economic stress. For the Bank of Canada, the strong report must make them at least a tad nervous about their freshly-minted pause — we said the bar for any move would be very high, but the employment gain is pretty towering indeed. This is actually the last jobs report the Bank will see before it next decides in March, but their upcoming decisions will largely be determined by inflation, and the employment data may prove to be just loud noise, provided inflation continues to ebb."
Article content
Charles St-Arnaud, Alberta Central
"Today's Labour Force Survey data suggest the labour market in Canada remains strong and resilient. The low unemployment rate continues to signal that the labour market remains very tight, something the Bank of Canada is closely monitoring. Moreover, the report also shows that wage growth, while slowing, remains robust, with average wages increasing by 4.2 per cent year over year.
"A robust labour market is a challenge for the Bank of Canada. As we have explained on numerous occasions, the bank needs to slow growth and create some excess capacity in the economy to fight inflation. This will likely lead to a rise in the unemployment rate and job losses. With this in mind, continued strength and tightness in the labour market may not be a welcomed outcome for the Bank of Canada.
Article content
"The continued resilience of the labour market raises the odds that the bank will increase its policy rate at its next meeting on March 8. However, whether the bank hikes further depends on inflation, with the next release on Feb. 21, and the growth outlook. Nevertheless, it may require some signs that underlying inflationary pressures are not moderating as quickly as expected for the bank to hike at the March meeting."
Carrie Freestone, Royal Bank of Canada
"Headline numbers conflict with recent Bank of Canada Survey data. The Bank of Canada Business Outlook Survey indicated business plans to hire staff have fallen alongside wage growth. This conflicts with the January Labour Force Survey data. Indeed, year-over-year wage growth has fallen to 4.5 per cent year-over-year, but hiring continues at a rapid pace and the unemployment rate held steady at a near record low 5 per cent. Any signs of labour market cooling require a deeper dive beyond headline numbers.
Article content
"Job postings are still up 50 per cent from pre-pandemic levels, but have come down in recent months. It remains our view that labour markets will not remain this tight over the near term. The delayed impact of the Bank of Canada's 425 basis points of hikes are still gradually flowing through to household and business debt payments and will ultimately erode demand, pushing unemployment higher through the end of the year. Moreover, with record high participation and fewer unemployed Canadians to fill jobs, job creation is not sustainable at the current pace.
"The Bank of Canada has indicated that rates will be held steady unless there is sufficient evidence that more restrictive monetary policy is needed. While the Bank of Canada will likely look past one strong jobs report, if additional reports prove to be stronger than expected, this would pose upside risk to the current terminal rate forecast of 4.5 per cent."
• Email: [email protected] | Twitter: GSuhanic

link