Canada adds 34,700 jobs in March, blowing away expectations
5 min read
Unemployment rate holds at 5%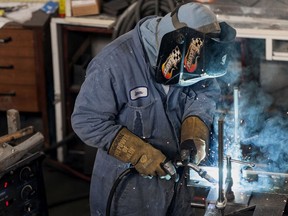 Article content
OTTAWA — The Canadian economy added more jobs than expected in March and the unemployment rate remained near a record low for a fourth straight month, data on Thursday showed, a sign of economic resilience ahead of a central bank policy meeting next week.
Article content
The economy gained a net 34,700 jobs, almost entirely in the private sector, and the unemployment rate held steady at 5.0 per cent, Statistics Canada reported.
Article content
Analysts surveyed by Reuters had forecast that a net 12,000 jobs would be gained in March and the unemployment rate would edge up to 5.1 per cent.
Article content
It was the seventh straight monthly job gain and brought the net increase in the number of people employed since September to 383,000. Since December, the jobless rate has stayed just a notch above the record low of 4.9 per cent observed in mid-2022.
"The big picture is just the resilience," said Andrew Kelvin, chief Canada strategist at TD Securities. "We've yet to see the impact of high interest rates slow the labour market, which is problematic for the Bank of Canada in that they really need to see the labour market slow to bring inflation sustainably back to 2 per cent."
Article content
After eight consecutive rate hikes to tame inflation, which peaked at 8.1 per cent last year, the Bank of Canada (BoC) left its key overnight interest rate on hold at the 15-year high of 4.50 per cent in March.
Thursday's jobs figures as well as robust GDP data released last week are likely to complicate the central bank's plans to avoid further rate moves. The average hourly wage for permanent employees rose 5.2 per cent in March on a year-over-year basis, down from 5.4 per cent in February.
The bank's next rate decision is due on Wednesday.
"The combination of still-strong job growth, a tight jobless rate, and +5 per cent wage growth is likely still too hot for the Bank of Canada's comfort," said Doug Porter, chief economist at BMO Capital Markets. "Even so, this generally solid report will not prompt the BoC off the sidelines."
Article content
All 33 economists polled by Reuters agree that the BoC will hold its key overnight rate steady next week.
"Look for policymakers to hold the line next week," said Royce Mendes, head of macro strategy at Desjardins. "They'll keep the door open to more hikes, but the recent banking sector turmoil raises the bar to unleash any more rate increases."
What economists are saying about the jobs blowout

Canada's job gains more than double expectations

Canada headed for recession in second half of 2023

Canada's economy jumps back to life after stalling
The Canadian dollar was trading 0.2 per cent lower at 1.3488 to the greenback, or 74.14 U.S. cents, but was still headed for a weekly gain.
There were 18,800 full-time jobs added in the month, and 15,900 part-time jobs.
The employment gains last month were driven by the services sector, which added a net 75,500 jobs, mostly in transportation and warehousing as well as support services. Those additions more than offset the decline of 40,900 jobs in the goods sector, which was dragged down by job losses in construction as well as natural resources.
© Thomson Reuters 2023
link