Back off, premiers, and let the Bank of Canada do its job
6 min read
There is no pain-free way to wring inflation out of an economy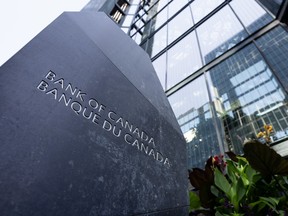 Article content
The number of provincial premiers opposed to Bank of Canada policy is a good index of how effectively it's working. By that measure the bank is doing alright. In recent days, Ontario Premier Doug Ford (Progressive Conservative) joined British Columbia Premier David Eby (NDP) and Newfoundland and Labrador's Andrew Furey (Liberal) in asking the bank to lay off further increases in interest rates, which is what the bank did in its scheduled rate-setting on Wednesday.
Article content
People are hurting, was this politically diverse chorus' refrain. As Ford put it: "Enough is enough. You're trying to kill the economy. You personally are responsible for creating inflation. Companies do not want to invest in new equipment because of the interest rates. A lot of people can't afford to get a mortgage because they're struggling. They're going to be losing their homes. That's on your shoulders."
Article content
The Bank of Canada declined to comment because it was in its pre-announcement blackout. It might not have answered anyway. But if it had, it should have said something like:
"We're obviously not trying to kill the economy. We're doing our best to restore the relatively inflation-free growth the economy enjoyed from 1990-2020. Yes, we share the blame for inflation: we were too accommodating of excessively expansionary pandemic fiscal policies — including your own, premiers. And we took too long to recognize that post-pandemic inflation wasn't as temporary as we thought it would be. But there is no shortage of blame to go around. How many of you, premiers, have considered the inflationary effects of the generous wage settlements you have been making or the hundreds of regulations you impose all across the economy, but especially in housing?
Article content
"It's true that higher interest rates will make companies more reluctant to invest in new equipment. It's also true they will make it harder for people who are struggling to get a mortgage. A main reason they're struggling, though, is inflation. Prices rising at seven per cent a year or more doesn't make life easier for anyone. Yes, slowing the economy down hurts. Higher unemployment and people losing their houses give us no pleasure. But we won't have sustained economic growth without price stability and that requires slower growth now.
"As even premiers should understand, inflation comes from too much demand pressing against too little supply across the economy as a whole. We should all do our best to increase supply. But that's usually a longer-run project, and not one premiers seem to enjoy, presumably because restricting supply creates more of the economic rents whose delivery to your friends and supporters you seem to regard as your main purpose in life. In the short run, our best bet is to pull back on demand and the main tool we have for doing that — really, the only tool we have — is our influence on interest rates. Hardly any of you premiers have shown fiscal restraint, either in your own budgets or in your unceasing demands on Ottawa's budget. Until you do, we have no choice but to keep the rate pressure on. Somebody has to be the adult here."
Article content
Granted, if the bank responded as pointedly as that, the Professional Order of Central Bankers would probably send it out for media retraining. But those are the facts. No doubt it's Calvinist to say so but there is no pain-free way to wring inflation out of an economy. Many have been proposed. None work.
Most are variations on two themes: edict or persuasion. Edict involves varying degrees of compulsion, from obligatory cooling-off periods to full-blown controls, whether in sectors deemed critical to the wage-price spiral (like housing) or all across the economy. The difficulty is that commanding economic forces to desist is like commanding the tide not to roll in. Prices are rising for a reason: demand exceeds supply. Ordering prices to stay where they are eliminates the main incentive for suppliers to supply more. It also requires that demand be rationed in some non-price way. Rent controls create shortages of rental accommodations. Will the poor single moms we all worry about win the resulting game of musical chairs?
Persuasion doesn't work because, well, people are people. You're trying to negotiate a wage increase. Prices are rising, your mortgage payments have gone up and you're having more trouble making ends meet. The prime minister or your local premier goes on TV and explains how important it is that we all stop the wage-price spiral here and now. Do you step forward, phone up your boss and say you've been thinking about what's good for the country and you want to cancel that meeting you'd scheduled to discuss your salary concerns?
Article content
I didn't think so. And even if you, kindhearted soul that you are, take this view, it's a lock that none of the country's union leaders do. If they do, they'll be gone — and quick.
This Old House, hire Mike Holmes and re-do 24 Sussex

One way Ottawa could save money — posture less about US politics

Bob Barker's truth: The price is (almost always) right
So Calvinism it is. The only question now is whether the bank is being Calvinist enough. Its Sept. 6 statement says "there has been little recent downward momentum in underlying inflation," and core measures of price increases are still running at 3.5 per cent. But, even so, it has decided not to raise rates for now — though it says it "remains resolute in its commitment to restoring price stability."
That sounds too much like persuasion for comfort.
Financial Post
link