Autism Awareness Month: A Man Finds Joy in his Job at TD Bank
3 min read
When Benjamin Hand finished his degree in mathematics from Eastern University in Philadelphia, he wasn't sure what the future would hold.
"I took some time to find out what I wanted to do with my life. Then, I saw a job counselor. The counselor inspired me to work on myself and get a nice job," Benjamin said.
Like many people graduating from college, Benjamin sent out a few applications. He didn't know if they would work out. Finding and securing a job may be more difficult for Benjamin, and others like him, who have autism. The National Institute of Health's research indicates significantly high unemployment rates for adults with autism.
This lack of employment isn't because they don't have the skills. Many people with autism have the knowledge and the ability to perform well and make significant contributions to the workplace.
In honor of Autism Awareness Month, which is celebrated in April, TD Bank is showcasing stories where changes have been made to eradicate these barriers. TD works with Specialisterne, an organization that supports "employers to tap into the talents of a neurodiverse workforce to build inclusive organizations." Building an inclusive organization is exactly what TD is working to do. This is the third year TD partnered with Specialisterne in the US and the eighth year in Canada. During this time, TD has found great employees who have integrated well into the company.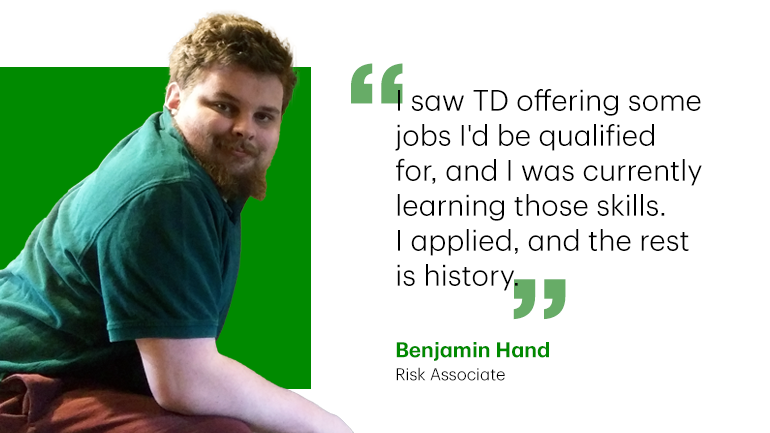 Bridging the gap in communication
Even with his strong degree, Benjamin wasn't clear on what he was qualified to do. His dad introduced him to the Specialisterne program where Benjamin met with a coordinator for two weeks over Zoom who helped with the onboarding process. He had a very positive experience. "The Specialisterne coordinator walked me through the different jobs that were being offered," Benjamin said. "He had me fill out sheets and do projects that I could then show to a potential new manager."
By having Benjamin list his skill set, and then point him in the direction of a job that might be a good fit, he was able to gain confidence as well as a foot in the door. This middle step bridged a gap in communication that might occur during a typical interview process, which was exactly what Benjamin needed. "I saw TD offering some jobs I'd be qualified for, and I was currently learning those skills. I applied, and the rest is history," Benjamin said.
Everyone benefits
The recruitment, onboarding, and management process between Specialisterne and TD created an environment where Benjamin's greatest strengths emerged. But aside from supporting the new employee, the entire team at TD learned how to improve their communication style. This fostered an all-inclusive, diverse, and cohesive workplace. In the end, everyone benefited.
Marc Rubino, Vice President of Enterprise Risk Management at TD, and Benjamin's manager said, "Working with Benjamin has been a rewarding experience. Beyond the opportunity for him, it's offered me the chance to grow my interpersonal skills as a manager."
Independence is the goal
Benjamin has been happy working as a Risk Associate in the Mount Laurel, New Jersey office since February 2022 where he uses Excel and does research. In his spare time, he enjoys a lot of different activities including playing video games, building sets with Legos and reading.
Benjamin's main goal for the future is to be independent. "I want to be able to stand on my own two feet and get my own place. Whatever happens, I hope I'll be in a good spot in life."
In the meantime, both Benjamin and TD are benefiting from the connections that have been made. For Benjamin, and others with autism who need a little extra help figuring out where their skills will be most useful, TD, and the Specialisterne program, are there for them.
link