Anti-racism assessment finds city employees hesitate to raise concerns
3 min read
Article content
A report coming to Calgary city council on Tuesday details the city's ongoing work on an anti-racism policy, with one councilor saying it's a good start to work that needs to continue.
Article content
The report saw its start in a 2020 petition signed by 70,000 Calgarians calling for a public hearing on systemic racism in the city.
Article content
Following the public hearing in July of 2020, council established the Anti-Racism Action Committee and Anti-Racism Program.
The report going to council on Tuesday highlights the work that's been done over the past two years, in preparation for the release of the city's anti-racism strategic plan that's coming in the first quarter of this year.
A document included in the report package delivers details on an organization-wide racial equity assessment that was conducted at the city. The assessment found that many city employees had either experienced or witnessed racist incidents at work.
Article content
"(L)eaders and employees feel that there are not as many opportunities for Indigenous, Black and diverse Racialized employees compared to White employees." read the document. "In addition, leaders and employees felt that there were more barriers of upward mobility for these groups as well."
Anti-racism work just getting started: councillor
Coun. Courtney Walcott said he is happy to see the report coming forward, but cautioned the city's anti-racism work is just getting started, and that it's going to take a lot of time.
"First we have to gather systemic expertise, gather lived experience, and then actually try and turn it into day-to-day policy, while simultaneously teaching people how to recognize some of these trends that we've historically ignored," he said.
Article content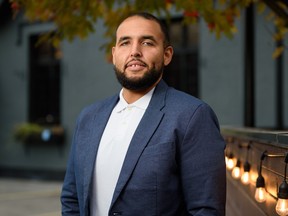 Walcott said he believes this will have to be a paradigm shift at the city, much like climate change has seen.
"We say that climate change has to be embedded in every single policy," said Walcott. "You know, when a land use item comes up, how's that going to impact climate change?"
He said council will now need to turn an anti-racism lens on everything that comes through the chambers as well.
"So when we're talking about a (Local Area Plan), we have to ask the question: How does this play into decolonization and how does this play into the anti-racism equity strategy?"
Institutional racism damaging
The Ward 8 councillor described his own lived experience with racism in his previous job in education, and now as a politician, adding that people who have never experienced it have a hard time accepting that it exists. Walcott said he sometimes felt anxious when doorknocking on his campaign because he wasn't sure how people would react to him.
He said in many ways, it's much easier to deal with someone who is overtly racist than to deal with the type of subtle, institutional racism that is highlighted in the report.
"Whether it be an assumption about a name or expectations about your qualifications, it's those sorts of things that really cap your upward mobility in society," said Walcott. "Those are the things that maybe don't lead to the same type of trauma, but they prevent you from actually moving up in the world which — in itself — is worse."
[email protected]
Twitter: @brodie_thomas

link